Wiltshire man finds movie character E.T.'s face in log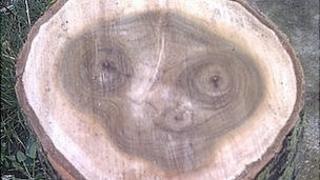 A Wiltshire man has found a pattern resembling the face of the movie character E.T. in a log.
Ken Dobson from Chiseldon said he found the unusual pattern in the grain of a log he was sawing for firewood at the weekend.
The alien was the title character in the popular 1982 film directed by Steven Spielberg.
Mr Dobson who is a fan of the film said: "As soon as I dusted it off I knew who it was straight away."
He added: "It's even got the neck and the chin that looks like E.T."
In the film, the character, whose catchphrase was "E.T. phone home" was stranded on Earth after being left behind by his spaceship.
'Dry steadily'
Mr Dobson, who's in his 70s, explained that he was coming to the end of sawing a pile of logs for firewood with a chainsaw when he noticed the pattern.
He said he would feel bad using the log for firewood and would like to keep it in the family provided it does not deteriorate.
"A lot depends on how it conditions," he said.
"If it dries out too much it will split. But if we can dry it steadily enough it won't and then I would like to get it professionally cut through to make about three others to give them to my sons."