Wiltshire Council's 37,000 homes plan opposed by 25 groups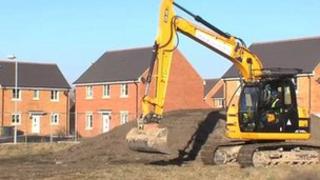 About 25 groups from across the county have formed an organisation to challenge Wiltshire Council's plans for 37,000 homes over the next 20 years.
Network Against Wiltshire Sprawl (NAWS) believes the homes are not needed and will threaten greenfield land.
Secretary Ken McCall said: "We feel that we will have a stronger voice if we group all the little groups together and have a united voice."
The council has said it is "ready and willing" to listen to people's views.
'Doughnut effect'
Director of economy and enterprise Alistair Cunningham said: "That's why we are out to consultation, there isn't a Machiavellian scheme to despoil Wiltshire through unnecessary housing, we believe what we're doing is the right balance."
The local authority has also said if it does not earmark where homes can be built, the decision will be taken out of its control by central government.
"We are not allowing development in the countryside, except where it meets very, very local need, in terms of affordable housing," Mr Cunningham said.
"We have done our best, we have taken a balanced view as we have a situation where we don't have acres of brown field land."
Wiltshire Council's Core Strategy proposes that 37,000 homes are needed until 2026 to support 27,000 jobs which will be created during this period.
Mr McCall said: "We don't feel the new homes or the jobs provision is sustainable, the whole document has to be looked at.
"We are representing the whole county, especially Trowbridge and Chippenham where they are desecrating the greenfields, rather than building high-quality office blocks and housing for single people in and around the town centre.
"We want them to concentrate on building in the town centre, otherwise they will get the doughnut effect where the town centres are dead and empty and all we have is development around the greater outside."
The housing consultation will finish on 2 April.