Kauto Star paraded through Somerset village of Ditcheat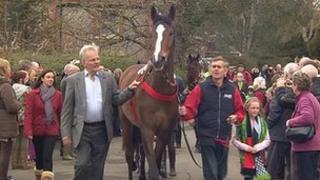 Two-time Cheltenham Gold Cup winner Kauto Star has been paraded through the Somerset village of Ditcheat.
The 12-year-old racehorse joined local trainer Paul Nicholl's two winners from the festival - Big Bucks and Rock On Ruby - despite failing to get a third Gold Cup win.
Kauto Star was pulled up by jockey Ruby Walsh after pulling a muscle and is now expected to retire from racing.
Hundreds gathered to clap and cheer as the horse was led through the village.
Owner Clive Smith said he "couldn't have wished for a better horse".
"He's been a fantastic horse," he said. "He's won so many grade ones - it's been a real pleasure and I'm so proud to have owned him, it's been tremendous."
He said the horse would not run again this season and any decision about his future would be made later in the year after talks with trainer Paul Nicholls.
Kauto Star is the only horse to have regained the Gold Cup title having lost it, winning the race in 2009 two years after his first triumph.