Tidworth war statue pieces found on Salisbury Plain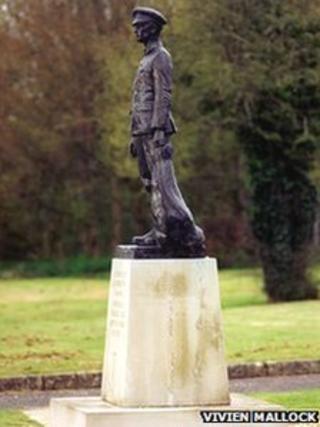 Pieces of a war statue stolen from the grounds of the Royal British Legion in Tidworth in Wiltshire have been found.
The 4ft high (1.2m) bronze statue of a World War I soldier was stolen in October and club members said they had lost all hope of having it returned.
Nine pieces of the statue have been recovered and handed back to the Legion by Wiltshire Police.
The force said they were found dumped at Everleigh Ashes on Salisbury Plain.
The pieces returned include parts of the statue's ears, legs and tunic.
A spokeswoman for the Royal British Legion said that its insurance firm had already agreed to pay £10,000 for the statue to be replaced, and the pieces will now belong to them.
The replacement statue is to be recast with the original mould by sculptor Vivien Mallock later this year.
She said: "It will be exactly the same as the last one, except it will be cleaner. You won't notice the difference.
"I think it's incredible that the police found these pieces. It must have been unrecognisable as the original statue."