Wiltshire lioness attack painting fetches £1,700 at auction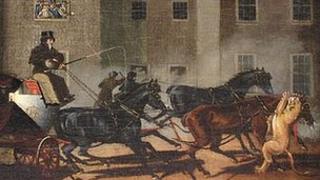 A painting which recorded an attack by a lioness on a mail coach in Wiltshire 200 years ago has sold at auction for more than twice the estimate price.
The oil painting, a 19th Century copy of a James Pollard work, shows the animal attacking the Exeter Mail Coach on 20 October, 1816, near Salisbury.
It was estimated to sell for £800 at auction, but fetched £1,700.
The buyer is unknown, but Woolley and Wallis auctioneer Victor Fauvelle hopes the painting will stay in the area.
He said: "I hope it's gone to a local collection, that would be very nice.
"There seems to have been quite a bit of interest as it's one of those pictures you get one chance to have.
"If you don't buy it on this occasion you're not going to get another chance, and I think that's reflected in the price that it made."
The lioness had escaped from a travelling menagerie and as the coach drew up at a coaching inn in Winterslow, it attacked the lead horse.
It was eventually trapped under a granary and its capture was reported in the Salisbury and Winchester Journal.