Help for Heroes: Injured soldiers work at Tidworth site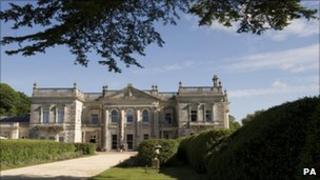 Two soldiers who were treated at a military recovery centre in Wiltshire are now working there.
Run by charity Help For Heroes, the Tedworth House centre gives physical and psychological aid to injured service personnel.
Army veterans Ben and Dan, who did not wish to give their surnames, were treated at Tedworth House after suffering psychological problems.
Now Dan is employed as a builder at the centre and Ben works there as a chef.
The pair said they both owed a lot to the centre, which helped with their rehabilitation, and wanted to repay the organisation.
Ben, 21, said: "I've never seen anywhere like Tedworth House. The amount of support here, never in a million years would I have expected it."
'It was fantastic'
Towards the end of his rehabilitation period, Ben was offered an apprenticeship to continue on at the centre working as a chef.
He said: "I couldn't believe it, it was fantastic."
Dan, also 21, said before he was admitted to the centre he was "quite sick and depressed".
After being treated for his depression and spending four months at the centre, the organisation's support hub got him a job as a builder working on an extension at Tedworth House, and found him a home in nearby Salisbury.
He said: "They've done a lot for me, and I want to repay just a little of what they've done. If it wasn't for them I wouldn't be as happy as I am now."
The £17m recovery centre at Tedworth House opened in June 2011.
Tedworth House has been described as a "launch pad to life", and has been funded by the forces charity Help for Heroes.
It is one of five personnel recovery centres in the UK.