Swindon council seeks legal advice over Facebook images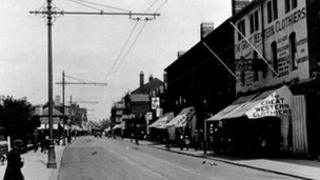 Swindon Borough Council is seeking legal advice after copyrighted images from its library service appeared on a social networking site.
Archive photos of the town from the central library's Flickr site have been uploaded to a page called Swindon Images on Facebook.
The council said despite contacting the page owner and Facebook directly, many of the photos remained on the page.
The page owner said he was not aware of any copyright issues over the images.
The library's online photo gallery on Flickr contains about 7,000 images of Swindon in the past taken from its photo archive.
A council spokesman said many of the photos appeared with the express permission of the copyright holders, an agreement which did not include onward publication by third parties on other social networking sites.
'Legal rights'
The spokesman added: "We have a duty to protect the legal rights of the local historians, experts, enthusiasts and specialists who have supported our project.
"We have made a number of polite and friendly attempts to communicate with the person who is posting copyright images onto their Facebook page, but our messages were deleted, and those who posted them were blocked. We have been left with no option but to seek legal advice."
Following a complaint from the council, Facebook has removed a number of the images from the page, but a "significant" number of photos remain, the council said.
The page owner, Alan Pellymounter, said he accepted he had copied many of the photos from the Flickr page, but said he did not realise it was a breach of copyright.
Facebook was not immediately available for comment, but it states as part of its terms and conditions that users "will not post content or take any action on Facebook that infringes or violates someone else's rights or otherwise violates the law".