Wiltshire school bought by pupil's father is to close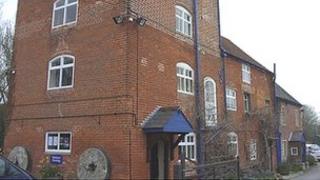 A Wiltshire school bought by the father of a three-year-old pupil to save it from closure, has been forced to shut.
Matt Hill, from Seend Cleeve, bought his daughter's prep school, Mill School in Potterne, last May after its owner of 18 years decided to sell it.
But in February, the school went into administration after Mr Hill and co-owner Dave Stanley "ran out of money".
Deputy Head Sylvia Parry said the news had come "completely out of the blue" and was "just so, so sad."
The independent school, established in 1958 in an 18th century water mill, caters for 45 pupils, 24 nursery-aged children and employs more than 20 members of staff.
'Kissed it goodbye'
But last Tuesday, staff were informed by the administrator that the school would close and their wages would not be paid for March.
Nicky Fisher, from administrators Herron Fisher, said the school "wasn't getting enough pupils" and "needed funding every month".
"The funder ran out of money," she said.
"There was the possibility of a benefactor paying the wages of the staff at the school - the March wages - but the offer has been withdrawn."
Ms Parry, who has been at the school for 12 years, said staff were owed back-pay but she had "kissed it goodbye".
"We found out last Tuesday that the benefactor had pulled out," she said.
"And the administrator wanted to close the school immediately but we agreed to stay on until the end of the month.
"We want to go with our heads held high."
The school is due to close later and the property will be put on the market.