Castle Combe race circuit groundsman awarded £2m damages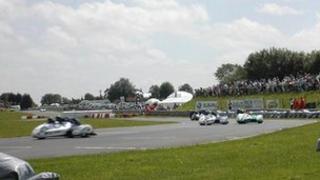 A Wiltshire racing circuit groundsman who suffered brain damage when he was blown from a lorry has been awarded more than £2m in damages.
David Johnson, 63, was collecting metal advertising hoardings at Castle Combe race track when a gust of wind blew him from the lorry he was on.
The freak accident, which happened in 2008, left Mr Johnson with severe head injuries and in need of 24-hour care.
A High Court judge made the judgement against Castle Combe Circuit Ltd.
'Changed dramatically'
Mr Johnson, from Chippenham, is still in a rehabilitation unit but will now use the money to move into an adapted bungalow in Devizes.
He had worked at the circuit for 20 years.
As well as a lump sum of £2m, he will receive £250,000 for a year followed by annual index-linked payments of £205,000.
The family's solicitor, Neil Elliott, said: "Prior to this accident, David and his wife were very happily married and looking forward to their future together.
"All this has been changed dramatically by David's tragic accident.
"David is a determined man and has always wanted to return home, despite the severe difficulties caused by his brain injury.
"His goal will shortly be achieved and we all wish him and his family well for the future."
Castle Combe Circuit opened in 1950 and has seen famous names such as Stirling Moss, Nigel Mansell, Ayrton Senna, and David Coulthard compete there.