Vote 2012: Swindon council elections biggest in 12 years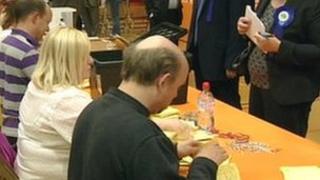 On 3 May the residents of Swindon will go to the polls for their biggest local election since the turn of the millennium.
The last time Swindon Borough Council had an all-out election was in 2000; Labour were in power locally and also in central government.
This year a total of 57 councillors are to be elected across 20 wards, with each councillor representing approximately 2,800 constituents.
To further complicate things, the map for which parts of Swindon are grouped together has been redrawn and the ward boundaries changed.
Nearly all of the wards will each be electing three councillors.
One ward - Chiseldon and Lawn - is to have two new councillors and another - Ridgeway - is to have only one councillor.
The Conservative's have run the council since 2003 and are proud of their record, but they know they must work hard to avoid losing their majority.
Councillor Rod Bluh, leader of Swindon Borough Council, said: "The challenge for every local election is trying to get people to focus on local issues rather than national issues.
"We recognise that and to be honest I don't think any of the local parties can do very much about that. If it was just on local issues I don't think we would have to fight nearly as hard."
But it's a fight that Swindon's Labour group believes it can win.
Group leader councillor Jim Grant said: "I'm afraid the Conservative-led government are taking a hammering due to their failure over the budget and their general incompetence in running government.
"They will pay a price for that and I think they will pay a price on 3 May in Swindon."
The Liberal Democrats, who are small in Swindon, have never run the council but believe that could work in their favour.
Councillor Stan Pajak: "Now I think people have the experience of a Conservative council, and also the past bad experience of when Swindon actually was one of the worst performing councils in the country because of it's Labour leadership.
"I think it's a unique opportunity and hopefully people will vote on new lines."