Girl hurt by 'out-of-control' mobility scooter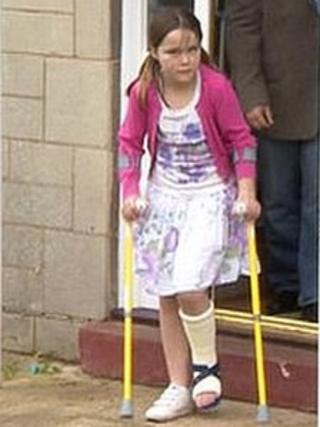 A Wiltshire man is calling for stricter controls on mobility scooters after his nine-year-old daughter suffered a broken ankle in an accident.
Akeyla Pike, from Corsham, suffered the fracture when an elderly woman appeared to lose control of her scooter at Clarks Village in Street, Somerset.
Her father Graham said the mobility scooter "just took off" as the family queued at the checkout on Monday.
The driver of the scooter was treated for shock at the scene.
Mr Pike said: "My partner was shouting out: 'What are you doing - stop, stop' and as she's gone past she's like, 'I can't stop it'.
"First of all it went into my daughter, then it went into my partner and we all got pushed back - and my daughter was screaming because it was going over her leg.
"We were told that the lady was very sorry and she didn't mean to do it.
"But we're trying to push for a permit - like a cycling proficiency - so that you've got some general knowledge on how to operate these machines."
Effective training
Kevin Clinton, head of road safety at RoSPA, said ideally people using mobility scooters would have had some training, been properly assessed and were confident using them.
"If people don't use the scooters then they can become housebound or end up in care homes.
"Compulsory training or compulsory insurance would all increase the users' costs and that might mean some people wouldn't be able to use them.
"There should be training, but we need to build up the number of providers and we need to know what sort of training would be effective.
"If you brought in a law now then a lot of users wouldn't be able to find the training in the first place so they'd lose access to their scooters," he added.
A spokesman for Avon and Somerset Police said the driver of the mobility scooter, a woman in her 70s, had been treated for shock at the scene by paramedics.