Earrings found in drawer in Wiltshire sell for £1.6m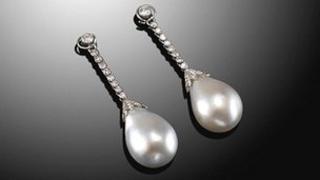 A pair of pearl earrings left in the back of a drawer for 35 years have been sold at auction for £1.6m.
The earrings were a gift from an exiled Romanian king to his mistress, who left them to a woman friend in Wiltshire on her death in 1977.
The unnamed woman did not wear them and the earrings sat in a drawer until her heirs had them valued last February.
Auctioneer Jonathan Edwards, from Woolley and Wallis, said he was "absolutely thrilled" with the result.
The earrings, each made up of a large natural drop-shaped pearl suspended from a row of diamonds, were expected to fetch up to £500,000 but sold for £1,618,000 earlier.
"They eventually sold to an anonymous bidder on the telephone," a spokeswoman for the Salisbury auctioneer said.
"They were sold after a fierce round of bidding which generated gasps of astonishment in the auction room and ended in a round of applause."
Dating from the early 20th Century, the earrings are believed to have been bought by Queen Victoria's great-grandson King Carol II of Romania - who was known as the "playboy" king.
They were bought as a gift for his mistress Elena Lupescu - who later became his wife after his abdication in 1940.
The earrings, along with several other pieces, were left to the family by Elena Lupescu when she died in 1977.
Auctioneer Mr Edwards said the family "were astonished to discover their value".
"They came in with a few pieces of jewellery to be valued and then phoned up as an afterthought a few days later and said 'Listen we've also got these pearl earrings - can we get them valued as well?," he said.
"I saw them and just couldn't believe it - these pearls, in the natural pearl world, are absolutely huge.
"We are absolutely thrilled with today's result and delighted for the family."