Swindon maul dog owner feels 'terrible' about attack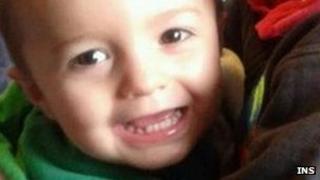 The owner of a dog which mauled a two-year-old boy in Swindon said he felt "really terrible" about the attack.
Keiron Guess lost an ear and part of his nose in Sunday's attack and doctors say he may lose the sight in one eye.
Garfield King said: "I'd say she's a pretty good-natured dog but every dog does switch."
Wiltshire Police said Mr King handed the dog, which was believed to be a Staffordshire bull terrier, to officers and it had been destroyed.
'Most horrific'
Keiron was found in a neighbour's garden in Swanage Walk after the attack.
He was taken to the John Radcliffe Hospital in Oxford for emergency surgery and was later transferred to Frenchay Hospital in Bristol.
"He's still in an induced coma," said Kieron's grandfather David Guess.
"They brought him round yesterday to see how he was and shined a light in his right eye and he seemed to react to that.
"Apart from that there's really no change."
Keiron's other grandfather, Shaun Leonard, said the boy's injuries were "horrendous".
He said: "Every single part of his face was shredded. It was the most horrific thing I've ever seen."