David Ainsworth found hanged after sex claims, inquest hears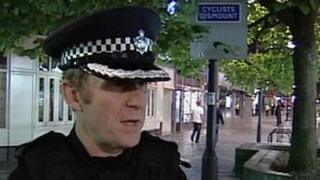 The deputy chief constable of Wiltshire was found hanged following allegations he sexually harassed female members of staff, an inquest has heard.
The claims against David Ainsworth, 49, were being investigated by officers from a different police force when he was found dead in his garage last year.
His partner Jo Howse said he had felt "humiliated" at the allegations.
She told the hearing at Trowbridge Town Hall he was shocked by the "pettiness" of some of the claims.
'Brilliant mind'
His widow Emma Ainsworth told the hearing that she and her husband had been going through a difficult and lengthy divorce.
She wept as she said he had a brilliant mind and was devoted to his work, to the exclusion of his family.
She said Mr Ainsworth had become increasingly depressed after the allegations were made.
Ms Howse, who lived with him in Potterne, Wiltshire, told the coroner how in September 2010 Brian Moore, Wiltshire's then chief constable, had called his deputy back to police headquarters and removed him from his job.
He offered him a number of options including working on changes in the Forensic Science Service, the inquest heard.
'Individuals colluded'
Ms Howse said Mr Ainsworth was upset about his secondment and that one senior officer had told him it was a witch-hunt.
"He was humiliated," she said.
"He was shocked by the pettiness of some of the allegations which were included.
"He felt that certain individuals had colluded."
She told the inquest how she discovered Mr Ainsworth hanging from a beam in their garage on 22 March last year.
He had earlier told her he was considering ending his life.
Family members told the inquest how Mr Ainsworth was eventually given treatment for depression and was on medication at the time he died.
The hearing at Trowbridge Town Hall began on Monday and is expected to last for two days.