Funds raised for family of Swindon dog-maul boy Keiron Guess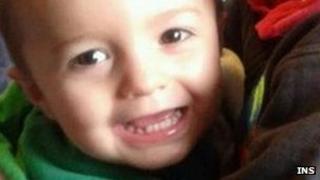 Colleagues of a Swindon man whose son was mauled by a dog have raised money to help the family.
Two-year-old Keiron Guess lost an ear and part of his nose in the attack on 3 June. Doctors have said he may lose the sight in one eye.
Keiron's father Anthony Guess works at Brunel Scaffolding, based in the town.
The £1,000 donated by his co-workers will help his family with travel and accommodation costs while Keiron is being treated in hospital.
Keiron was found in a neighbour's garden in Swanage Walk after the attack.
He was taken to the John Radcliffe Hospital in Oxford for emergency surgery and was later transferred to Frenchay Hospital in Bristol.
Garfield King, the owner of the dog, which was believed to be a Staffordshire bull terrier, handed it to police and it has been destroyed.