Swindon Mela-goers asked for £2 donation to event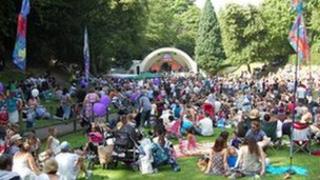 Rising costs and a drop in sponsorship has prompted organisers of the Swindon Mela to ask for donations at the gates.
Organisers were refused permission by Swindon Borough Council to bring in an official entrance fee but have been allowed to ask for £2 donations.
Mela organiser Jaz Bhui said: "It's due to a lack of sponsorship and to put on the event we need finance so we can hold future events as well."
The free event is in its 10th year and is held in the Town Gardens in Swindon.
'Extra road closures'
Organisers have said the event costs about £50,000 to run each year.
"We used to get quite a lot of money from sponsorship, we had larger companies and banks who came up with £5,000, £10,000 sponsorship, but that's gone," said Mr Bhui.
"The rest of the money comes from the hiring out stalls and things like that."
Mr Bhui also said costs had risen due to the extra road closures required by the council.
The Mela will be held in the Town Gardens, Old Town on Saturday 25 August.