Man jailed for robbing same bank twice in Swindon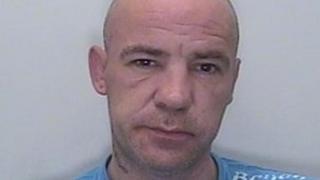 A man has been jailed for two armed robberies at the same bank in Swindon.
Jason Jarvis, 40, from Latton Close, Penhill was found guilty of robbing Lloyds TSB in Cricklade Road, Gorse Hill on 9 December 2010 and 23 June 2011.
The court heard Jarvis had previously been convicted of robberies at a post office in Blunsdon in 1994 and at a bank in Southampton in 2002.
He was given a 13-year jail sentence at Swindon Crown Court.
Jarvis carried out the first robbery at the bank by passing a note to a cashier demanding cash and saying he was armed, the court was told.
Six months later, in June 2011, Jarvis returned to the bank and pointed what the cashier believes was the barrel of a gun at her and said: "Armed robbery."
The cashier passed him the money from her till and Jarvis escaped.
At the end of the two-week long trial, Jarvis was found guilty of armed robbery, but cleared of possessing an imitation firearm.