Swindon station forecourt work delayed by weather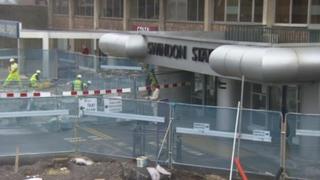 Building work at the front of Swindon's railway station is running behind schedule.
The improvements had been expected to finish at the end of July but now look likely to be completed by mid August
Forward Swindon - the company overseeing the work - says the recent heavy rain has delayed the work.
A spokesman said it had been been working closely with the contractor to ensure the work on the forecourt was completed as soon as possible.
"However, due to factors outside of all of our control, including the unusually wet weather, it is likely that work will not be fully completed until mid August," he said.
"The area to the right of the station entrance - toward Costa Coffee - will be fully opened up to the public next week, and the contractors will then focus on the area on the other side of the entrance.
"The imperative has been to keep access to the station open at all times."
Work has been taking place at Station Road for nearly a year. The area to the front is being paved with granite to highlight the route to the town centre.
A new taxi rank will have room for 14 cabs with an additional route for taxi drop-offs and emergency vehicles.
Forward Swindon is the economic development company for the town and is responsible for the delivery of economic growth in the borough.