Whalebridge junction re-laid due to wrong type of tarmac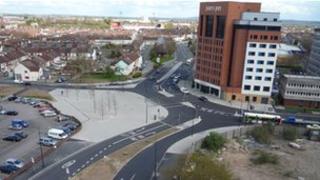 Motorists face further disruption after a major junction in Swindon, Wiltshire, is dug up for the second time in six months.
The Whalebridge junction, a former roundabout, was redesigned as part of the £330m Union Square redevelopment.
Forward Swindon, the company overseeing the work, said temporary asphalt had to be laid in December as it was too cold to put down the anti-slid type needed.
The work is under way and is expected to take three weeks.
"This surface was always part of the plan," said Ian Piper from Forward Swindon.
"Unfortunately the timing of the programme was such that it couldn't be laid below five degrees.
"Therefore we got the most disruption out of the way and have come back now when we're guaranteed with the temperatures, doing the work on Sundays to minimise disruption."
It is hoped the junction, which has been designed with the Highways Agency, will "pave the way for the creation of a new gateway to the town centre".
The junction used to be a roundabout and underpass linking roads such as Fleming Way and Princes Street.
Forward Swindon is an independent company established and funded by Swindon Borough Council in 2010 to "deliver and facilitate economic growth and property development in the town".