Devizes community farm proposal to go before council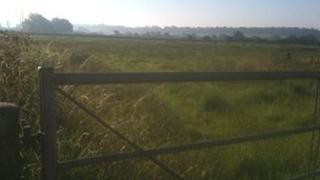 Plans to turn disused land near Devizes in Wiltshire into a community farm are to be presented to the local authority.
Marsh Farm is owned by Wiltshire Council but has not been used as farmland for 11 years.
A local group wants to turn it into a community farm to teach children and young adults about agriculture.
Project leader Chris Franklin said: "We want to put it back to how it was and give everybody the chance to see the beauty of the countryside and farming."
The group plans to return the farmland to a "sustainable and eco-friendly facility" by restoring dilapidated farm buildings, growing produce and keeping livestock.
Links have been set up with local schools in order to encourage agricultural and horticultural courses for children and young people.
Mr Franklin said: "We want children and young adults to understand where food comes from, and also the benefits of nature."
The group is to present its proposal to Wiltshire Council's Devizes Area Board for consideration.
A Wiltshire Council spokesperson said: "We look forward to hearing more about the proposals for the Marsh Farm land."