Jim Ward shooting: Family tribute to Devizes solicitor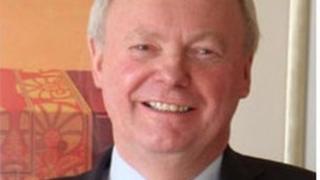 The family of a Devizes solicitor, who died after being shot in the head, have described him as being "caring and inspiring".
James Ward, 58, was shot at Morris, Goddard & Ward Solicitors on 2 July. He died three weeks later in hospital.
In a statement, his family said he had a "very practical nature and a passionate desire to help people".
Michael Chudley, 62, is currently charged with the attempted murder of Mr Ward.
During his career, Mr Ward worked as a physicist but requalified as a solicitor in 1983.
The tribute said he was also willing to help his friends and neighbours and was passionate about carpentry, building, physics and science.
His greatest delights in life "came from helping his son with mechanics while working on their Mini, or encouraging his daughters with their degree work in architecture and physics".
Mr Ward is survived by his wife Nicky, their three children, and his mother, Susan. His father died in 2010.
A private family cremation will take on Friday, 10 August followed by a thanksgiving service for friends and family at St John's Church in Devizes in the afternoon.