Wiltshire school governor resigns over sex education video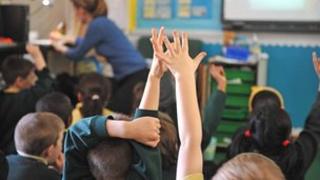 A governor at a Wiltshire primary school has resigned over a decision to show a sex education video to pupils.
The video called Living and Growing, produced by Channel 4, explains what happens when a couple get aroused.
Keith Miller, a former governor at Westbury Leigh Primary School, said some parents had described the film as being "lurid" and "unsuitable".
The school's head teacher said parents had been invited to view the film and could stop their child from seeing it.
The film was included in the school's curriculum after the majority of the governors voted in favour of it.
Mr Miller, who missed a special screening of the film, said from the "detailed description" he was given it promoted sex "as a voyeuristic piece of excitement".
"It was far too lurid, it contained scenes which could be described as being little more than titillation," he said.
"I doubt very much whether children understand that sort of thing until say 11 or 12 and certainly not at seven and eight," he added.
'Cartoon' sex
Beth Pope, a teacher at Goddard Park Primary School in Swindon, said the film was appropriate for "some children".
"It does show the sex act but it is cartoon," she said.
"And you've got to try and think about what children might have already seen and it's quite a safe environment in a classroom to be able to talk about these things."
In a statement, head teacher Debbie Grimsey said the DVD had been used "by thousands of schools for more than 15 years".
"Parents were given opportunities to view the materials being used and informed of their right to withdraw their child from all or some of this unit," she said.
"Most chose to support the programme."