Safety call by Trowbridge couple over third wall crash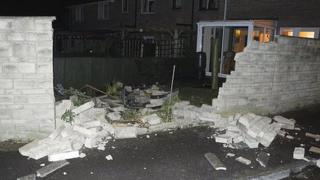 A Wiltshire couple has called for better safety measures after a third vehicle crashed into their garden.
Martin and Jen Weston, from Trowbridge, were in bed when a car drove through their garden wall on Sunday Morning.
Mr Weston said it was the third time in 10 years his property had been hit and has called on the council to make the road outside his home safer.
Wiltshire Council said the matter would be reviewed at the next area board meeting in September.
Mr Weston, who bought the property in 1998, said if the latest crash had happened during the day it could have been fatal.
"It was like a war zone - some of the bricks must weigh between 10 and 14lbs and they were catapulted about 20ft across the garden," he said.
"If we'd been in the garden when this car hit then we would certainly have suffered serious injury if not been killed."
The property is sited on a sharp bend at the junction of Drynham Road and Wiltshire Drive.
'Reinforced wall'
"There's no signage - there's nothing to warn drivers that there's a severe bend," added Mr Weston.
"And they lose control, hit the curb and come through my wall."
According to Mr Weston numerous cars have "come into contact with the wall" over the years.
"There are lots of different shades of paint on the wall where people's passengers doors have scraped it," he said.
Mr Weston said they were getting the wall reinforced with steel and wanted the council to consider putting in some bollards or safety fencing.
Wiltshire Council said the situation would be assessed and brought up at the next area board meeting.