Ed McKeever gets Royal Mail gold stamp and postbox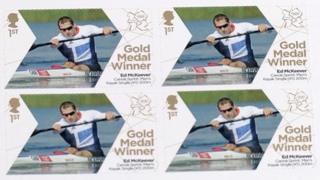 Team GB gold medallist Ed McKeever will have his own Royal Mail stamp and gold postbox to celebrate his success.
The 28-year-old from Bradford-on-Avon, Wiltshire, won Britain's 26th gold medal in the men's 200m kayak sprint.
Royal Mail has said it will issue a Gold Medal stamp and paint a postbox gold in his home town to mark the win.
The athlete, who was born in Bath, said he felt "not elation, more relief and so happy I could do it in front of the home crowd - it's brilliant".
'It is amazing'
Derek McKeever, his father, said: "My wife is beaming. She nearly collapsed after his race she was that excited. His fiancee was in tears - it is amazing.
"I have laid my hands on an Olympic gold medal and it is heavy."
The win was Britain's second ever Olympic canoe sprint gold medal after Tim Brabants triumphed in 2008.
Royal Mail has said its stamp will be released, and postbox painted gold, on Sunday.