Salisbury helicopter crash caused by power loss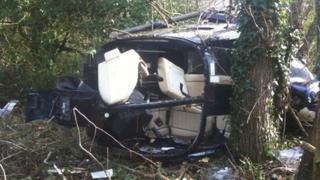 An unexplained loss of power caused a helicopter crash which injured three men in Wiltshire, an air accident report has revealed.
The Gazelle helicopter was flying from Bath to a landing site near Salisbury when it crashed on 10 January.
The pilot was preparing to land when the engine stopped delivering power at a height of about 60ft (18m).
He was able to steer over woodland near the Churchfields Industrial Estate and carried out an emergency landing.
The Air Accidents Investigation Branch (AAIB) report said the pilot, Andrew Ridings, a businessman from Marksbury in Bath, was able to get out of the helicopter and extinguish flames that were coming from behind the engine cowlings.
Clip the trees
He then helped his two passengers out of the aircraft.
The emergency services soon arrived after being alerted by eyewitnesses.
The report quoted an eyewitness, who said her attention had been drawn to the aircraft due to the fact it was unusually low.
She saw it initially moving in an easterly direction just above some trees and said the tail had appeared to clip the trees and the helicopter had started to rotate, before the nose dropped and it descended from view.
Accident investigators said with the limited evidence available, it was not possible to be more specific about how a tear in the helicopter's bodywork occurred or what part it may have played in the accident sequence.