Wiltshire library moves thousands of books to new site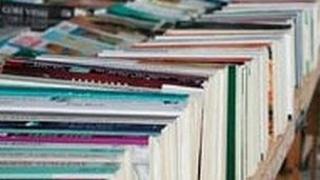 A Wiltshire library is to close later ahead of its move to a new site.
More than 30,000 books, currently held at Trowbridge library, are being packed up and moved across the road to purpose-built premises in County Hall.
The reference library has already shut and the lending library is due to close at 19:00 BST "to give staff time and space to move", Wiltshire Council said.
The new library, based in council offices on Bythesea Road, will be officially opened on 12 September.
A Wiltshire Council spokeswoman said the new library will be larger and offer areas for both children and teenagers.
"It will be bigger than the combined areas of the two libraries it replaces, with more stock and longer opening hours," she said.
"And it will have free WiFi, as well as extra public computers for everyone to use."
New books
Chris Harling, library development manager for Wiltshire, said he hoped the new library would be "a real asset to the community".
"Currently the lending library is in one place and the reference library is further away - they're both very old buildings and the idea is that we can have a nice modern library with easier access for everybody," he said.
"We've got all this stock to move - we're packing up thousands of books - and than we've got 7,000 new books that we'll be having for the new library.
"So there's half a mile of shelving to fill which we'll be doing over the next week."