Wiltshire police to get extra stun guns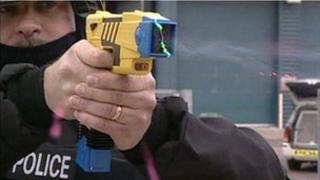 Extra electric stun guns are being made available to police officers in Wiltshire, especially in rural areas, the constabulary has said.
Every officer in the 1,000-strong force has received a letter from Chief Constable Patrick Geenty promising that safety is a top priority.
It follows the killing of two female police officers in Greater Manchester.
Wiltshire has two armed response units on duty 24 hours a day but many rural officers work unarmed and alone.
"I ask you to go about your duties in a professional and caring way but in the back of all our minds are the potential dangers of policing," the letter said.
"I hope and pray you will always be safe and I will do my best to ensure you have the right kit and training to do your job."
More officers will be trained up to use the equipment.
The letter did not say how many extra stun guns would be supplied.
Mr Geenty has said he is against the routine arming of the police, which he believes would be a backward step.