Sherston mangold hurling event cancelled over lack of vegetables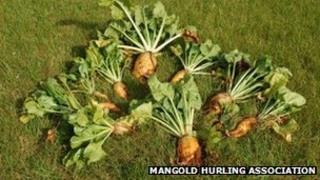 An annual mangold hurling contest in Wiltshire has been cancelled due to a shortage of the root vegetables.
Organisers of the annual Mangold Hurl in Sherston said it is not a common vegetable and the farmer they usually obtained them from did not grow any.
The event is based on an ancient tradition of farmers using crops for sport.
Organiser Paul Ormiston said: "It's a shame. We have had to cancel because of a lack of a vegetable."
Mr Omiston said the event, which was due to take place on Sunday, requires 300-400 mangelwurzels.
He said: "We are going to have to look a lot closer to home next year. It is a possibility we will grow our own but we will need quite a few of them."
Mangold hurling was established in the 19th Century and has recently enjoyed a renaissance in the west country.
The Sherston Mangold Hurl was revived in 2006 and sees hundreds of the vegetables, which are similar to beetroots and used as fodder for cattle, thrown in a similar way to the French game of boules.
The contest involves teams of three competing to see who can land their mangold (also known as a mangold wurzel or mangelwurzel) nearest to a larger, leafless one, called a 'Norman'.