Great Western Hospital dispute: Acas-mediated talks collapse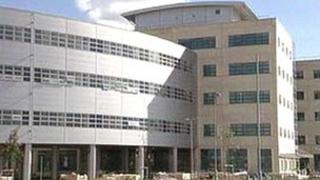 Talks aimed at resolving a dispute between support staff at Swindon's Great Western Hospital and their employers have broken down.
The workers are in dispute with service provider Carillion over claims of bullying and intimidation and issues surrounding leave entitlement.
The GMB Union and Carillion this week began talks mediated by the conciliation service Acas.
But the talks collapsed and the matter will now be settled at a tribunal.
The hospital cleaners and domestic staff concerned, most of whom are of Goan origin, have also made complaints of racial and religious discrimination.
They have taken 21 days of strike action since February.
'Golden opportunity'
The GMB's Maria Ludkin said Carillion had missed a "golden opportunity" to resolve the dispute, and said the talks had collapsed because Carillion refused to acknowledge the "continued discrimination and victimisation" of employees.
She said: "We will now pursue our cases through the courts where we are extremely confident of a just resolution."
A spokesperson for Carillion said the company was "very disappointed" that the talks broke down.
He said: "With no resolution possible from today's discussions we will now move into the full tribunal process, which will allow the issues to be tested in a proper legal forum.
"We do not believe that the GMB's claims are supported by the facts and that this will become apparent when the evidence is laid out in the public arena."
The case will now be heard at pre-hearing review at Bristol Employment Tribunal in December.