Swindon Mechanics' Institute on Victorian Society's endangered list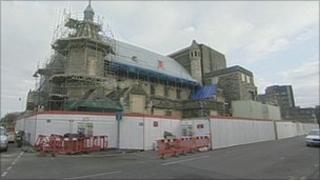 A derelict building in Swindon once used to educate railway workers has been put in the top 10 of the Victorian Society's "most endangered" list.
The organisation said the Mechanics' Institute had fallen into a "terrible state" since it closed in 1986.
It said the "magnificent" Grade II*-listed structure had fallen prey to vandals and arsonists.
The council said it had done everything it could legally to protect it from "the neglect of the private owner".
The Mechanics' Institute was opened in 1854 as an educational centre for railway workers but closed in 1986 and has stood empty since then.
In 2002, Forefront Estates Ltd bought the building and planned to develop it but last month the company was dissolved for failing to file its accounts on time.
Now the Victorian Society, a charity which campaigns to preserve Victorian and Edwardian structures, wants the council to step in to protect "one of the best buildings in Swindon".
Director Chris Costelloe said: "Things can't be allowed to go on as they have done since 1986 and really it's got to come down to the council as this is such a big problem.
"It's a really important building and, as one of Swindon's best buildings, it should have a very bright future and it should inspire future generations."
A council spokesman said the authority had done everything it could legally to protect the building and was owed an estimated £1.2m for the repair work it had already carried out.
"The assets of Forefront Estates, which are effectively the Mechanics' Institute, are now vested in the Crown following the winding up of the company," he said.
"The council still has first call on those assets as the principal creditor, but is not yet in control of the building."