Swindon's plan for 22,000 homes given cabinet approval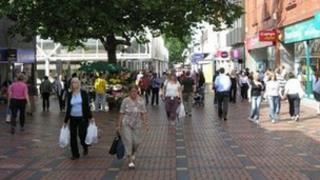 Plans to build 22,000 homes in Swindon have moved a step closer after council leaders gave their approval.
The draft plans, which need full council approval, set out how it could be developed in the next 15 years.
The council said they ensure the town has the right infrastructure in place for future developments.
But Jean Saunders from the Friends of the Earth said the plans were "sheer madness", adding that empty buildings should be used instead.
The plans were approved by the cabinet at a meeting on Wednesday evening.
They include homes which have already started to be built in places including Wichelstowe, Commonhead, Tadpole Farm and the Northern Development.
About 8,000 homes are slated for the Eastern Development Area - south of the A420 and North of Wanborough while up to 1,000 could be built in the town's central area.
'Crystal ball'
Councillor Dale Heenan said: "[The plans] are about managing demand and setting out how we would like to see Swindon grow over the next 15 years."
He said the figure of 22,000 was based on figures from the Office of National Statistics which show that Swindon has grown at a rate of 1,000 homes a year for the last 10.
"My view is that there's nothing to suggest that we won't do it over the next 15 years. If the economics improve over the next five years, then that may increase," he added.
But Ms Saunders said: "They're supposed to take into account the current situation, not look into a crystal ball and say 'right, we're going to have 1,500 houses a year and all these companies are going to be moving to Swindon' when the evidence over the last few years shows that that is completely wrong."
The local plan still has to pass full council approval, public consultation, and government scrutiny.