Science park in Wiltshire wins £10m in government funding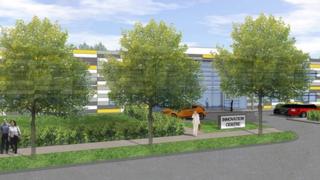 A new Wiltshire science park has been awarded £10m of government funding.
The Porton Science Park, a joint venture between the council and private firms, will be sited near the Health Protection Agency (HPA) at Porton Down.
Providing facilities for science and research based industries, the council is hoping the scheme will attract £70m of private investment and create 2,000 jobs over 10 years.
Work is due to begin imminently with buildings completed within 18 months.
The funding, from the government's £1.3 billion Regional Growth Fund, follows a successful bid by Wiltshire County Council and a joint development company.
A spokeswoman for the council said the investment would "help kick-start the first phase" of the project by creating "infrastructure and a new innovation centre".
Councillor Jane Scott, leader of the council, said she was "quite confident" that the scheme would create 2,000 jobs over 10 years and would "attract enough investment".
"I don't think the government would have given us the money if the bid hadn't been very, very strong," she said.
"We have outline planning permission on this site - so we're not starting from scratch.
'Catalyst for growth'
"And you've just got to go with these things - you couldn't have them [private sector] all signed up - not knowing if you've got the money for the infrastructure."
Steve Richards, from the Swindon and Wiltshire Local Economic Partnership, said he thought it would be a "real catalyst for growth".
"Porton Down has always been one of those hidden gems - and for us it's about getting the Porton brand more widely recognised," he said.
"With the lab space there on site - I think it offers a bright opportunity for young people going into sciences to follow that path."
A total of £72m from the Regional Growth Fund has been shared out across firms in the Westcountry.