Appeal nears target to fly Swindon coma man Sean Connolly home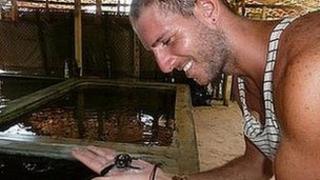 A campaign to raise £55,000 to fly a Swindon man, who is in a coma, home from India is nearing its target.
Sean Connolly, 26, has been on a life-support machine since he was found collapsed in Mumbai on 13 October.
He did not have travel insurance and it is costing £1,000 a day to keep him in intensive care, his friends have said.
Friends of Mr Connolly, who had set-off alone on a two-week backpacking holiday through India, say they have raised £45,000 so far.
A day after arriving in India on 12 October, the former Dorcan Technology School student was found lying in a street in Mumbai and admitted to hospital.
Since then the 26-year-old, who now lives in Shoreditch, east London, has been in a coma on a life-support machine, suffering from a fever and respiratory problems.
Friends said they did not know what happened to him but said the money they have raised means they have options to get him home.
Mr Connolly was recently transferred to a private hospital and his father, Martin, flew out to Mumbai to be by his side.
"Due to the level of severity of his condition", an appeal was launched to raise an estimated £30,000 to fly Mr Connolly home.
A spokesman for the Foreign and Commonwealth Office said it was aware of the "hospitalisation of a British national in Mumbai, India".