Swindon's night club Suju's 'crime scene' tape criticised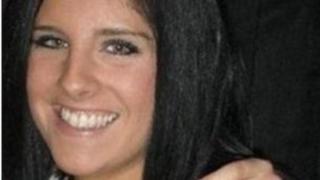 A nightclub that was the last place a woman was seen before she was murdered has been criticised for using crime scene-style tape to promote an event.
Sian O'Callaghan, 22, was seen leaving Suju club, in Swindon's Old Town, on 19 March 2011. Her body was later found in Oxfordshire.
Victim Support said the decoration was "an insensitive act" which could "add insult to injury to the family".
No-one from Suju was available for comment.
But a message on the club's Facebook page said: "We would also like to state the tape has now gone from outside SUJU for another year."
Taxi driver Christopher Halliwell, 48, of Ashbury Avenue, was jailed last month for a minimum of 25 years after pleading guilty to Miss O'Callaghan's murder.
The club was decorated to promote a Halloween party held on 27 October.
Organisers crisscrossed bright yellow tape with the word caution over the front of the building in the style of a police crime scene.
A picture of the club's exterior was published on the event organiser's Facebook page on 27 October along with the caption "Enter with Caution tonight!".
Borough councillor Stan Pajak, said: "This was the biggest crime in people's minds in recent times. I can't remember anything quite like it the trauma the whole town went through.
"The whole town was united in its grief - the biggest example was the flowers outside - you couldn't get past because of all the flowers.
"It's still very fresh in people's minds and by making it into a crime scene in reference to Halloween isn't quite right," he added.
Amy Wright, who works near the club, said she saw the tape on the way home from work and wondered whether a crime had been committed.
"I was quite shocked. I thought 'what's going on?'
"It's a horrible thing that happened and I'm glad he's paying for it but maybe they should have waited on what they've done especially as they were quite close to the crime itself.