Wiltshire PCC election: Silcocks might sell headquarters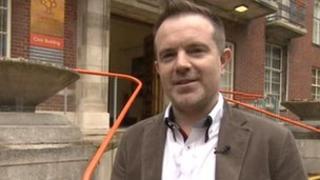 A candidate standing to be Wiltshire's police crime commissioner has said that if elected, he would consider renting or selling the force's headquarters.
Liam Silcocks, an independent candidate, questioned whether the building in Devizes was needed.
He said services could instead be distributed across the county which would "make a lot of services more reachable" to people.
The police and crime commissioner elections take place on 15 November.
Mr Silcocks told BBC Wiltshire that he would also consider sharing services such as human resources, IT, and professional standards, with other forces.
"If we can start to share these resources across multiple forces, then we can start to save an awful lot of money," he said.
Mr Silcocks, who has worked for Wiltshire Citizens Advice, also discussed how he would save money as the force is facing 20% cut in its budget.
"Every police force in England and Wales is going to face cuts and no, I don't want to see redundancies, but through natural employment churn and people leaving, my proposal will be that we don't start to replace some of those people."
Also standing for election are: Paul Batchelor for the Liberal Democrats; Conservative Angus Macpherson; Clare Moody for Labour; John Short is the UKIP candidate and Independent Colin Skelton.