Malmesbury flood fund reaches £10,000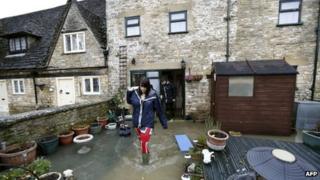 A fund to help the victims of flooding in a Wiltshire town has reached £10,000.
In November, 20 properties in Malmesbury were flooded and four people had to be rescued from their homes.
Town mayor Ray Sanderson said nearly £4,000 had already been redistributed, with the money being used to help replace damaged furniture and white goods.
He said: "The whole community has pulled together to help the victims."
Seven families whose homes were flooded were forced to spend Christmas in rented accommodation.
'Dry out'
One flood victim, Jenny Whitby, said she had been told it could be up to six months before her family could return to their house.
She said: "We want to move back and we don't want it to flood. The most important thing is to allow it to dry out so we can move back."
The town council has organised a meeting with the Environment Agency on 10 January for residents to discuss their concerns about flooding.
Six flood warnings remain in place in Wiltshire.