Christopher Pike jailed for Wiltshire crime spree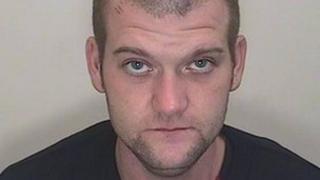 A man who threatened a worker with a knife at a jewellers in Wiltshire has been jailed for eight years.
Christopher Pike, 30, of no fixed abode, admitted trying to rob County Jewellers in Malmesbury.
In the weeks after the 5 October raid, he committed many more crimes including several burglaries from homes and businesses across the county.
Speaking after sentencing, Det Sgt Simon Pope described Pike as a "serial and dangerous offender".
He expressed his gratitude to Andy Carnegie who, with "no regard for his own safety", ran to the aid of the jewellery shop assistant.
Hearing her screams, Mr Carnegie, a member of staff at a neighbouring store, confronted Pike.
'Woman terrorised'
"I went in and realised the guy had a knife and that she [shop assistant] was at some risk," said Mr Carnegie.
"He came towards me with a knife, I got mildly cut and we tousled.
"We crashed back through a display. I was knocked out momentarily and then I chased him out the shop."
Mr Carnegie said the attack was a "well planned attempt to terrorise" the shop assistant.
"He'd been waiting for an hour-and-a-half for the right moment to terrorise her.
"So her first awareness that something was going on was having a knife pressed against her and being told that she was going to be killed."
At Swindon Crown Court, Pike admitted a string of charges including burglary, theft of a motor vehicle, common assault, criminal damage and driving while disqualified.
He was also banned from driving for two years.