Malmesbury flood plans to be drawn up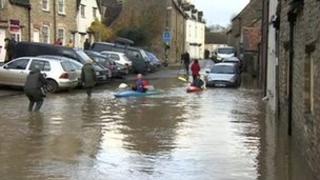 A meeting has been held in Wiltshire to draw up plans to deal with and prevent future flooding in Malmesbury.
The town centre was left under water after heavy rains in November.
Organisations, including the Environment Agency and the town council, took part and an advice session was held for people affected.
Steve Scothern, from Wiltshire Council, said: "It's going to take time and it's going to take money obviously - and at this stage we're just fact finding."
Among the solutions suggested at the public meeting, held earlier, included dredging the River Avon so it flows more quickly and looking at the town's historic bridge with its narrow arches.
But Ray Sanderson, the mayor of Malmesbury, said: "We're renowned for flooding - but it is a problem because the bridge is an ancient monument."
'Vastly expensive'
And Ross Barton, from the Environment Agency, said it would be "vastly expensive to do".
"The structure is listed and there may be people in the community that feel strongly that this shouldn't be tampered with," he said.
But Mr Scothern, the council's land drainage engineer, said they would "have to look at everything".
"We need to speak to those people who suffered flooding and from there we'll come up with a series of bullet points which we'll need to address," he said.