Wiltshire horse charity plea for sensory garden help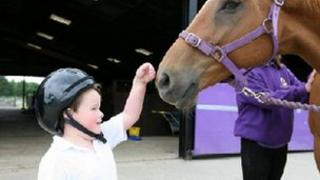 A Wiltshire horse welfare charity is appealing for help to build a sensory garden for disadvantaged children.
Greatwood near Marlborough rescues and cares for neglected and ill-treated racehorses.
It also allows children with special educational needs to spend time with the horses through rehabilitation and education programmes.
Founder Helen Yeadon said she was looking for volunteers to help plant seeds, and offer compost and a heater.
No heating
"There are, I should think, 200 packets of seeds," she said. "We have a polytunnel but we don't have any heating. So I have the raw ingredients but I have absolutely no source of heating.
"My appeal is for anybody who can maybe spend time helping us with compost, [with] planting out the seeds, [or] maybe lending us a greenhouse heater."
The charity, which was set up in the 1990s, recently ran a successful appeal asking people to donate seeds and plants.
The finished garden, which is due to officially open on 31 May, will benefit disadvantaged children and the Wiltshire Blind Association.
"We need smell, and sight and bright colour, and different textures, and different sounds," said Ms Yeadon.
The money for the sensory garden has been donated by the Wooden Spoon charity.
Founded in 1983, the organisation - which is the charity of British and Irish Rugby - supports disadvantaged children and young people across the British Isles.