Earl of Cardigan bound over in Savernake Estate row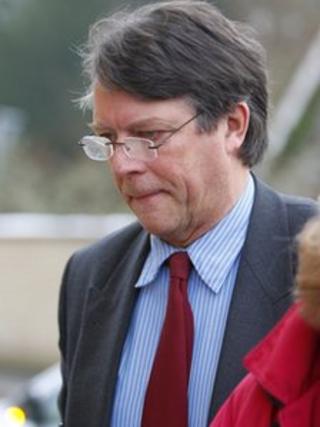 An aristocrat charged with criminal damage and theft on his family estate has agreed to be bound over.
The Earl of Cardigan was accused of damaging six pheasant feeders and the theft of a battery and electrical power unit on the Savernake Estate, near Marlborough, Wiltshire.
The 60-year-old appeared at Swindon Crown Court under his full name of David Michael James Brudenell-Bruce.
He agreed to be bound over for 12 months for the sum of £200.
The Earl had been due to stand trial after denying the two charges.
Claire Marlow, prosecuting, told the court: "This defendant is in dispute with the trustees of the Savernake Estate and there are now proceedings in the Chancery Court between this defendant and the trustees.
"These offences are generally of a nuisance and aimed at disrupting the workings of the trustees and the estate.
"They are minor in nature and the defendant agrees to be bound over to stop him behaving like this in the future and to stop him interfering with the employees and the estate."
Mike Pulsford, defending, said the Earl was maintaining his innocence but agreed to be bound over.
'Sensible outcome'
"My client had entered not guilty pleas and he maintains those pleas," he said.
"There is a Chancery Court application by my client to remove the two trustees from the Savernake Estate."
Judge Douglas Field told the Earl that if he complied with the terms of being bound over he would hear no more about the case.
"If you don't comply with these terms you might be liable to pay all or some of the money," he said.
"This brings an end to these proceedings and I think it is a sensible outcome."
Speaking outside court, the Earl said the case was the 14th set of allegations made against him during his long-running dispute with the trustees.
"Most of them have been dismissed by the police as being too absurd," he said.
"The battery I am accused of stealing is still sitting at the bottom of my garden, exactly where it was when this case started.
Paintings sold-off
"The gamekeeper had removed all the good pheasant feeders and left only the broken ones.
"Those are the ones I was accused of breaking further."
The Earl said the proceedings in the Chancery Court were about removing John Moore, a barrister's clerk, as a trustee of the 4,500 acre estate.
The Earl went to the High Court last year, accusing the trustees of selling off portraits without his knowledge.
A judge ruled against the Earl, concluding the paintings were "held by the trustees".
Last week, the Earl was acquitted by magistrates of assaulting Mr Moore.