Boy, 14, attacked after being hit by car on Chippenham zebra crossing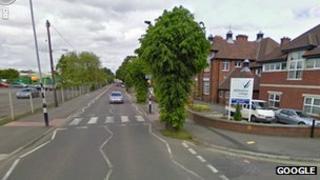 A 14-year-old boy was assaulted by a driver and passenger after a car hit him while he was on a zebra crossing in Wiltshire.
The teenager was thrown onto the bonnet of the Ford car and the windscreen was cracked in the incident on Cocklebury Road, in Chippenham.
The pair then followed the boy into nearby Wiltshire College where he was further assaulted, police said.
Officers said the behaviour of the pair in the car was "unacceptable".
The boy is thought to have only suffered minor injuries and did not require hospital treatment.
Windscreen repair
During the assault in the college foyer the boy was pinned down to the reception desk before staff pulled the driver and passenger away.
Both left the scene after the intervention.
The incident took place at 13:00 GMT on 22 January but Wiltshire Police have only now released details of the assault.
The force said it had been trying to identify the pair using CCTV but had so far not tracked them down.
Sgt Andy Beaven said: "I am seeking the public's help to identify the male driver and his female passenger. I am also seeking information from anyone who saw what happened outside the college.
"It would also be helpful to hear from any windscreen repair companies who repaired or replaced a windscreen of a silver or blue Ford car in or near Chippenham on or after 22 January."
The man is described as white, aged in his 30s, about 6ft 2in tall, of heavy build with short dark hair. He was wearing a red top and blue three-quarter length tracksuit bottoms.
The woman is described as white, in her mid 50s, about 5ft 9in tall, of slim build with shoulder-length blonde hair.