Royal Wootton Bassett's town crier honoured for mace bearer role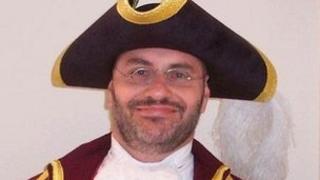 Royal Wootton Bassett's sword and mace bearer has been given the top job in his field.
Owen Collier, who is better known to some as the town crier, has been named the prime warden of the Guild of Mace Bearers and is said to be the first in Wiltshire to hold the ancient post.
He has served in Wootton Bassett since April 2001. A ceremony has taken place at the Memorial Hall on Station Road.
Mr Collier said it was a great honour to be given the title.
He said: "It means you are the head of mace bearers of the UK and Commonwealth, and you're the head person of the guild.
"I'm the first Wiltshire prime warden to ever hold the office.
'Great honour'
"So, it's a great privilege and a great honour not only to represent the Guild of Mace Bearers, but also the town and people of Royal Wotton Bassett."
A mace bearer is responsible for carrying a highly ornamented staff or sword before a sovereign or other high official in civic ceremonies.
Mr Collier has served the town of Royal Wootton Bassett since April 2001, when he became deputy town crier and sword bearer.
He took over as sword and mace bearer and became town crier in May 2005 when Fred Deacon retired due to ill health.
The Guild of Mace Bearers dates back to the 1930s but mace bearers have been around since the Middle Ages.