Dog warning after sheep attacks on Wiltshire estate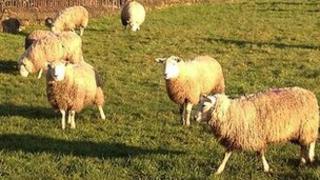 Dog walkers on a Wiltshire estate are being asked to control their animals to reduce the number of attacks on sheep.
Flock master Mark Candy said three sheep have been viciously attacked at Corsham Park in the last two months.
He said: "It's been very severe attacks, one resulting in 35 stitches and another with a broken shoulder bone and a lot of internal stitches."
Dog owners are being urged to keep their animals on leads ahead of the lambing season.
Behave responsibly
Mr Candy, who oversees a flock of about 1,100 sheep on the estate, said in 20 years of farming he had not seen "attacks this vicious".
"It seems to be a big problem this winter - we don't really know why," he said.
"In the past we've had the odd case where sheep have been chased by dogs but this time we're having a lot of severe attacks.
"And it's not a pleasant sight to see animals suffering after such bad injuries and attacks."
Despite fears that attacks could increase as lambing gets under way Corsham Estate manager Chris Waltho does not want to ban dogs from the park.
"There are four public footpaths which go across the park and they are widely enjoyed," he said.
"We need to foster a good relationship with people who come to the park to ensure that everybody behaves responsibly."