Wiltshire football game in honour of Quinton Barham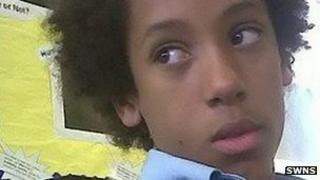 A 13-year-old who suffered a cardiac arrest during a football match in Wiltshire is out of intensive care.
Quinton Barham, from Trowbridge, was playing for Bradford Town YFC two weeks ago when he came off the pitch feeling dizzy, and collapsed.
He was taken to hospital in Bristol where he was treated before undergoing heart bypass surgery.
The under-14s team has not played since but is gathering later for an informal match being played in his honour.
Chairman of the club, Nick Maw, said Quinton was "perhaps too keen" to get back to normal life but said the hospital was delighted with his recovery.