Twitter success for former Honda worker who secures new job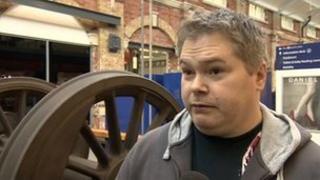 An unemployed Swindon man who turned to Twitter to get work has secured a job, four years after being laid off.
Sean Stroud was spotted by a local data communications company when the BBC interviewed him about his decision to advertise himself on social media.
He lost his job at car manufacturer Honda in 2009. He retrained in IT and had been applying for suitable jobs for nearly two years.
Mr Stroud said he felt like "a kid on Christmas morning" after getting a job.
"[I'm] excited and relieved and pleased to finally get a job after 18 months of applying for places and getting nowhere," he added.
Mr Stroud said that constantly applying for jobs had affected his confidence.
"I even sent out letters to 20 companies offering to work for free to gain the experience and I had three replies. All saying 'sorry but we can't help you'.
"It was my very first interview. I've not had an interview since leaving college.
"I was a bit nervous walking in there but they made me feel at ease. It wasn't as daunting as I thought it would be."