150 cars have tyres slashed in Swindon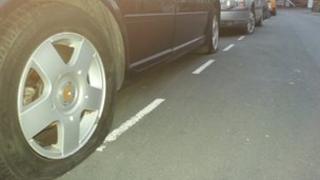 About 150 cars had their tyres slashed by night-time vandals in Swindon.
At least five roads in Old Town and the surrounding area were targeted, including Dixon Street, Stafford Street and Prospect Place.
Detectives said damage to about 150 cars had been reported to them so far with more incidents coming to light on Thursday morning.
Wiltshire Police is asking people who have been affected or who may have information to contact them.
Lyndsay Preston, whose car was vandalised, said: "It makes me feel a bit angry but also a bit sad and a bit scared.
"Because if someone can do such a thing, it's really quite bad and I worry for their mental health."
'Extremely serious'
Justin Rogers, whose van was parked on Stafford Street, said he noticed there was something wrong with his vehicle when he started up the engine.
He said: "I thought I must have a flat tyre and started to jack it up. I walked round the other side - two flat tyres.
"Once it got a bit lighter, about 10 minutes later, I had a look and thought it's not just me they have all been done."
Mary Walker also had two tyres slashed in Prospect Place. She said it was "mindless" and she believed it "could not be the work of just one person".
Det Insp Joe Saunders, from Wiltshire Police, said: ""This is a large-scale incident of criminal damage and one we are taking extremely seriously.
"The offender or offenders have been brazen in the sheer number of vehicles which have been damaged early this morning."
He said they received the first reports at about 03:30 GMT but believe the attacks may have started at 02:00 and continued until 05:00.