Salisbury Cathedral spire to get digital anemometer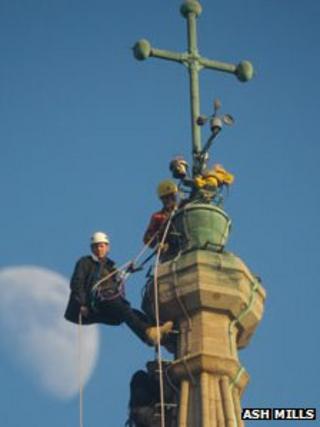 Salisbury Cathedral's new clerk has climbed to the top of its spire to inspect it in preparation for a new digital instrument being installed.
There is already a wind speed meter on the spire which relays information to the cathedral floor where it is checked by members of staff and is a point of interest to visitors.
The new digital anemometer will measure both wind speed and temperature.
The 123m (403ft) high spire is the tallest in Britain.
Clerk of works Gary Price said he had fulfilled a lifetime's ambition by climbing it.
He said: "I have looked up at the spire at least 10 times a day for the whole of my working life but it wasn't until 11am that morning that I knew for certain my ambition of 26 years was finally going to come true - to climb the highest medieval structure in the world, something that most people can only dream about.
"It was a great climb but I made it to the top and am now completely speechless my lifelong dream has at last become reality."
After climbing five spiral staircases to reach the top of the tower - the highest point visitors can reach - Mr Price had a further 56m to climb.
He scaled 10 ladders inside the structure to the "weather door" before climbing the final 12m with the help of two steeplejacks, ropes and metal rungs.
Information from the new equipment, due to be installed later this year, will be relayed to the cathedral's website and social media profiles, as well as to the vestry and the cathedral floor.
It will be used to ensure tower tours can take place safely and to confirm it is safe for staff and contractors to work high up on the scaffolding.