Bristol's St Mary Redcliffe replaces bell after 110 years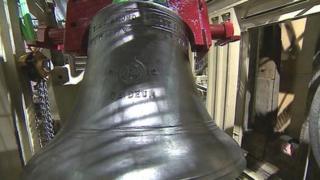 A new bell to replace one that has "clunked" for 110 years has been hoisted into a church tower in Bristol.
St Mary Redcliffe Church raised some £30,000 to replace its poorly-cast eighth bell, which has been the weakest of 12 since 1903.
Ringing master Anthony Bulteel said the bell was "noticeable" when the church clock chimed and it could be "heard every quarter of an hour as a clunk".
The new full peel of bells is due to be rung for the first time on Thursday.
'Poor sound'
To "improve the sound quality of the ring" the bells at St Mary Redcliffe underwent renovation work more than a century ago.
But, according to Mr Bulteel, the church only replaced bells one to seven and the twelfth bell.
"Due to cost constraints, the other bells were only refurbished and the eighth bell was simply re-hung," he said.
"Since then, ringers and non-ringers have commented on its poor sound - and people have just sort of put up with it."
The new eighth bell, which has been cast at John Taylor Foundry in Loughborough, weighs three-quarters of a ton and measures about 6ft (1.8m).
Dedicated during the sung Eucharist service on Sunday, it took more than three hours to hoist it 35m (115ft) up and into position on Monday.
"Hopefully by Wednesday or Thursday we'll be able to test it with the other bells," said Mr Bulteel.
"And hopefully it will improve the overall quality of the sound of all 12, when we ring them.
"But also when the clock strikes, you'll get four lovely notes on the Westminster chimes."
The original 1768 eighth bell will remain in the tower and be used as a Sanctus bell during Sunday Eucharist services.