Hare coursing 'major problem' in Wiltshire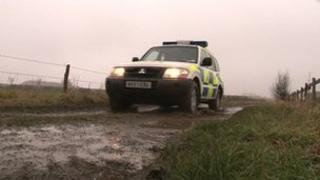 Illegal hare coursing has become a "major problem" in Wiltshire, according to police.
Officers said offenders were travelling from as far away as South Wales, Southampton and Surrey to hunt hares with dogs for money on private land.
One Wiltshire farmer said he no longer felt secure on his own property.
The new police and crime commissioner for the county said he would like to see more special constables patrolling rural areas.
Hare coursing has been banned in the UK since 2005.
Sgt Vincent Logue, from Wiltshire's rural crime team, said: "We are getting an awful lot of hare coursing and people might think 'it's only a few bunnies' but it's a whole lot more than that.
"It's not just the destruction of hares, we are getting associated criminal damage to the fencing, to the land, and intimidation of landowners and users of that land."
Sgt Logue said farmers could become involved in Farm Watch to pass on information so police can catch the offenders in the act.
'Feel threatened'
"We've got prosecutions ongoing at the moment for several different people," he said.
"They don't generally give us any problems, but it's a whole different matter when they're confronted by members of the public."
One farmer, who did not want to be identified, said: "You feel slightly threatened because you never know where somebody might appear from in a vehicle."
"It's got more of a criminal side to it and the fact it's very aggressive," he said. "They will go through fences, they will go through hedges, they will go over fields in 4x4s.
"They've got escape routes, they've got vehicles, we're near the motorway so we're accessible to lots of parts of the country."
Getaway route
Wiltshire's Police and Crime Commissioner Angus McPherson said it needed to be a priority because the victims were living in isolated areas.
"We've seen a decline in metal thefts, but hare coursing and trespassing on people's fields and crops is still a major problem," he said.
"I'm suggesting to the Chief Constable that he ups the number of special constables in the county and some of those he directs into looking after the rural areas."
Esther Daley, from Wiltshire Council, said they had temporarily closed one byway, which was being used as a getaway route, in a bid to solve the problem.
But she said the council could only take this measure if there was damage to the byway or a safety risk to the public.