Paralympian Stephanie Millward given Freedom of Corsham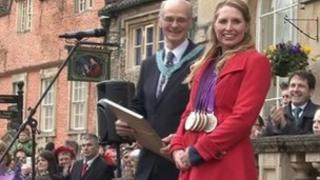 Paralympian swimmer Stephanie Millward is being honoured at a special ceremony in her home town in Wiltshire.
The athlete, who won four silver medals and one bronze at London 2012, is being handed the Freedom of Corsham.
Ms Millward, 31, who was diagnosed with multiple sclerosis at 17, said it was a "dream come true".
Corsham Town Council chairman Peter Anstey said she had been "a force in the community for a long time."
He added: "We felt that she should be recognised as broadly as possible. She brings a lot to our community, helping other young people achieve the best they can."
Ms Millward said: "Every time I come to Corsham I have a smile on my face anyway.
"But just the fact that everybody will know who I am and what I have done - and to know that I have been given this gift of the Freedom of Corsham. Absolutely perfect."